* If we were in the phone book. Which we're not.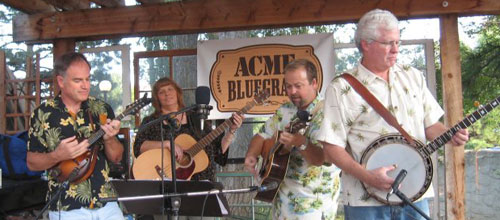 Welcome to the Acme Bluegrass Homepage! Thanks for taking the time to come for a visit.

We are so pleased you have stopped by our little website to have a peek! We would love to see you come out to one or all of our gigs this coming year...it sure makes us smile to see all of your fabulous faces and talk with you to see how things are going for ya!

Life of a famous bluegrass band has it's challenges. The travel, hotels, airlines, rental vans and airports can all be daunting. Promoters can go from one extreme to another. Late nights, no sleep. But even with all that some of the experiences are life changing. These are some of the comments we've her from friends in famous bluegrass bands. For us, the local stage is the stage for us. And we love our local venues!

Acme Bluegrass is a Colorado Springs based band that loves to perform high energy, hard driving acoustic entertainment. With local icon, John Ramsey on banjo, transplanted native Les Irvin on mandolin, and New Mexico transplants Sebie and Tracy Denson on bass and guitar, this four piece sings and plays with the spirit of true hillbillies. And here lately, you'll even find a fiddler joining in the fray from time to time.

The band plays a music mix of traditional and contemporary bluegrass with some diversity from artists like Chuck Berry, Bob Dylan and, of course, the king - Elvis. We have also added some new songs from such bluegrass greats as The Pogues and well...that should at least get your curiosity peaked and get you to stop by sometime and see what you have been missing!

So keep looking around. Go to the bios to find out more about band. And make sure you visit the calendar page to find out about upcoming performances.

Lastly, join the Acme mailing list and we'll forward reminders on performances and updates on the band.